alan little's weblog – snowboarding
I am a middle-aged beginner-to-intermediate snowboarder with three seasons experience. I like venturing off-piste into the powder and would like to do some backcountry touring sometime. I have no interest whatsoever in throwing myself off cliffs or leaping around turning somersaults: tricks are for kids.
Based on that, I plan to offer my assessments of ski resorts I've been to in Austria and Germany, in the hope that they might provide somebody with some useful information. I'll start with places I've been to in the past, but on Saturday I'm heading down to Austria for a week, and might hopefully be able to offer slightly more realtime reports on snow conditions. My assessments are mostly only based on a few visits to each resort – although I do probably go to the Alps more frequently, and to more different resorts, than most English-speaking snowboarders or skiers ever do. Especially if I've only been somewhere once, please assume that my rating is heavily biased by whether the snow there happened to be good or bad that day.
I have had, so far, two brief snowboarding careers. The first was in the winters of 2000 and 2001, when I had just moved to Munich and was learning to snowboard with a bunch of friends who were mostly only a season or so ahead of me in experience. We were doubtless nowhere near as capable as we thought we were, but we weren't afraid to try going more or less anywhere on the mountain, and I tried enough off-piste to clearly understand that powder snow is where it's at on a snowboard. Most of those friends have since moved on. I spent the winter of 2002 in India, then in 2003 I was an expectant father. So that was it for snowboarding for a few years. Sledging became the dominant winter sport in our household.
Last winter my son was coming up to his fifth birthday, which by Bavarian standards meant it was definitely high time to get him on skis. My wife wanted to learn too, and friends who are very experienced skiers and have a son the same age asked if we fancied a week in the Alps with them in February. We did, and it was great. So with excellent late season snow last year and excellent early season snow this year, I'm just heading into the second season of my second snowboarding career.
So my perspective is that of a former incompetent-but-enthusiastic freerider, who is now mainly concerned with finding unstressful slopes for his wife and child while still hoping to be able to nip off into the powder for a little while now and again. People with other perspectives and priorities might rate places differently. I will rate things, based on my personal experience of them, as follows:
| | | |
| --- | --- | --- |
| ☆ | One star: | don't bother |
| ☆☆ | Two stars: | decent, worth a visit |
| ☆☆☆ | Three stars: | good |
| ☆☆☆☆ | Four stars: | very good |
| ☆☆☆☆☆ | Five stars: | fantastic |
There are plenty of websites out there that try to rate ski resorts comprehensively, objectively and/but in a manner that is by some criteria "fair" and/or unlikely to offend advertisers. This results in an atmosphere in which is is politically unacceptable to dislike famous major resorts like, for example, Kitzbühel, and general rating inflation in which nothing is ever rated under three stars out of five (not unlike ebay seller ratings, where you can essentially subtract the first 95% of the rating to get a realistic opinion). I on the other hand have no problem at all with disliking Kitzbühel, for reasons I will explain in due course.
But for reference, some of the better trying-to-be-comprehensive-and-objective ski resort review websites, that I use heavily when I'm trying to decide where to go next, are:
Ski Resort Test: English language version of a German site, Ski Gebiete test. Useful detailed ratings for different levels of ability. Reasonably comprehensive for Germany and Austria, much less so elsewhere.
Snow Forecast attempts to give comprehensive reports on snow conditions
… and, much less comprehensive but with a more hardcore snowboarder perspective:
Board The World
World Snowboarding Guide

january snow
I don't claim to be a meteorologist, but I've lived in Bavaria for ten years, and had an active interest in snow sports for five of those ten years, and I've noticed what seems to be a fairly typical weather pattern.
Namely: there are often one or two big snow dumps before Christmas – I spent a fun day hiking in one of them at the beginning of November last year – but then January is generally cold but dry, with the really big snowfalls of the year coming later in February & March. This year has been typical: while northern Europe and the southern and western Alps (and the US too, so I gather) are under heaps of snow, here in the middle we had only a couple of very light snowfalls.
What this means, for early season skiing and snowboarding in the Bavarian and Austrian Alps, is a lot of on-piste scraping around on cement-hard artificial snow; off-piste thumping and bashing your board over snow cover with not much depth and lots of sticks & stones (my board is currently in the shop for repair of couple of nasty holes).
You generally can find some decent snow, but exactly where is very variable, depending on the exact weather and the local terrain. Last January I was in Gasteinertal, and the good snow tended to be in sheltered runs lower down in the trees; this year I was in the Zugspitz Arena, further west and a little lower down, and in those ski areas the decent snow was mostly higher up.
For quasi-local snowboarders like myself, spending the early part of the season on on rock-hard pistes isn't fantastically much fun, but it's good technique training and a warm-up for the proper snow later in the season. If you're traveling from far away for your only ski or snowboard trip of the year, though, you might be well advised to plan your trip to Austria later in the season, or go to Italy or France (or Scotland, this year) instead.
Ehrwald, Biberwier, Lermoos ☆☆☆
| | |
| --- | --- |
| Times visited: | six |
| Last visited: | January 2010 |
| Rating: | Good |
The ski areas of Ehrwald, Biberwier and Lehrmoos are part of the "Zugspitz Arena", a group of smallish ski areas in the Loisach valley south west of the Zugspitze, just across the Austrian border from the Bavarian resort town of Garmisch-Partenkirchen. I just spent a few days there, traveling from Munich on a ski school bus with my family. (The normal advantages of bus versus car travel, from the perspective of the car driver, apply).
I was impressed. The valley, with the Wetterstein range to the north and the Mieminger range to the south, is spectacularly beautiful. I had driven through it many times, for example on the way to bigger and more famous ski resorts like Serfaus and St. Anton, but never stopped before. Now that I did, I discovered that the ski areas are good too – highly recommended for beginners and families with kids. If you're skiing with kids and/or of modest ambitions yourself, you don't necessarily need big famous ski areas on huge mountains.
Ehrwalder Alm
Ehrwalder Alm is a small ski resort oriented to kids and families. It has some of the most spectacular scenery of any ski resort I've ever been to, being situated directly in the valley between the south face of the Wetterstein and the north face of the Mieminger Alps (I noted some excellent looking possibilities for summer trips in the Mieminger with my wife). The runs at Ehrwarlder Alm are shortish but pleasant, including the token "black" run that every ski resort feels it has to have – this, despite being pleasant and not too hard, had almost nobody on it, so my wife and I spent an enjoyable couple of hours one afternoon doing laps on it.
Drawbacks of Ehrwalder Alm: the (otherwise rather nice) blue run back down to the valley gets very crowded in the afternoon – slalom around groups of ski-school kids who you really don't want to hit. The restaurants are few, mediocre and overcrowded. And the only way to the top half of the resort is via an old, slow double chairlift. This has quite a steep exit ramp that tends to be frequently blocked by fallen beginners, especially in the afternoon when the snow has got a bit bumpy.
Biberwier
Biberwier is a very small ski area - basically one quite long run (800 metres of descent), plus a little plateau at the top of the hill with a couple of draglifts that were closed when I was there because of insufficient snow. As with all ski areas where I have only been once, my perceptions are greatly affected by how the snow was that day, which in the case of Biberwier was pretty sparse and stony in places on piste. But while I was there it snowed for a couple of hours and there was some thin but rideable powder by the side of the piste; I spent my day happily going up and down that.
The Sunnenalm restaurant at the top struck me as one of the nicer ski area restaurants I have visited, although this may have been helped by the fact that hardly anybody was up there.
Apart from being small, Biberwier has one major drawback, namely: the only way to the top half of the mountain is an old, slow and freezing cold double chairlift.
My wife was generally underwhelmed by Biberwier; I found it utterly charming and would definitely go there again – albeit only right after a big dump of snow.
Lermoos
Lermoos is the largest of the three areas. It has lots of good beginner and intermediate runs, but there didn't appear to be all that much for the ambitious. (We were there with two other families with small children, so "ambitious" didn't apply to us anyway[*].) It is, however, north-facing, and the early season snow was pretty hard and nasty in the afternoon.
There's no single ski area in the Zugspitz Arena that would be interesting for anybody except an absolute beginner for more than a couple of days, but since all the little ski areas – there are a couple more that I haven't been to – are close together and linked by buses, the area as a whole would certainly be viable for a week's family holiday.
[*] Although this will be my six year old son's third ski season, and I have the feeling that by around the end of the season, "ambitious" for me might well mean "keeping up with him on the piste, just about".
alps 4, alan 0
This year I've been spending more time in the mountains than I have for a long time, and enjoying it immensely. Part of spending a lot of time in the mountains safely is knowing when not to push your luck. ("Go to the mountains, don't get up shit, but also don't die, and you can call it good", says Rock & Ice magazine) But I'm starting to get the feeling my luck may have been a little too un-pushed lately. Let's see:
March: my first ever snowboard tour, on some mountain I forget the name of. With my friends Pete & Mike on skis. I learned that walking up a mountain on snowshoes, carrying a snowboard, is a lot less efficient than skiing (assuming one can ski, which I can't). And: neither snowshoes nor snowboard boots turn out to be much good for the last few metres of steep snow to the summit of [whatever it was called], which Mike danced up in his nice stiff ski mountaineering boots. Pete kindly stayed behind to look after me. Still, that was just the top bit; otherwise a fine day out with friends.
May: first big hike of the season with Mike. The idea was a traverse of the Arnspitze chain, involving some scrambling/easy climbing that looks (we hoped) a lot more impressive than it really is. But we came to a short, steep bit with nasty fall potential down a gully, and we weren't sure if we were on-route, and Mike was tired having already bivvied on top of another mountain the night before (whereas I got the first train down from Munich in the morning) so … another good but shorter than envisaged day.
Fast forward to July, and the weekend of the annual race up Germany's highest mountain, the Zugspitze. This event has a reputation for epic weather; I should have known planning a trip on the same weekend was a mistake. But my son was away staying with friends, so I planned a trip at the other end of the Wetterstein range with my wife, staying overnight at a hut and then on a klettersteig – steep scrambling, but with safety cables – up the Dreitorspitze. The Zugspitze fell race weekend lived up to its reputation: pouring rain below two thousand metres, heavy snow above. We decided to go anyway – weekends where the two of us can do something together without our son are rare and precious. Maria enjoyed the hike up to the hut, mountain walking in foul weather being a new and stimulating experience for her. (For me, having grown up hiking in the British mountains in British weather, less so). On Sunday the weather was fine; but fine weather or not, you don't take klettersteig novices up things that look like this: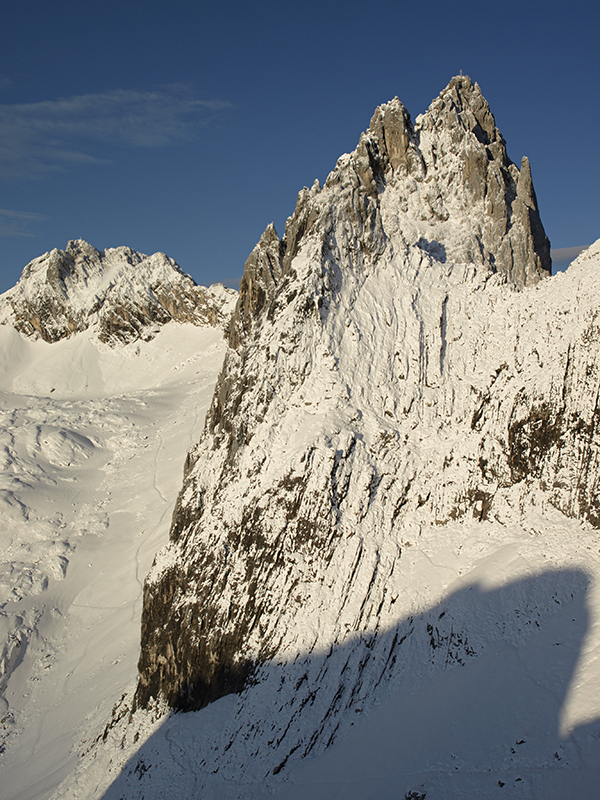 Partenkirchener Dreitorspitze, July
August: perfect weather, and I nipped out for a solo day on the Grosser and Kleiner Waxenstein. Zugspitze range again – it's less than an hour's drive from Munich and very scenically impressive. If you stay away from the overrun-with-tourists Zugspitze itself. The Waxensteins are actually right next to the Zugspitze, and the car park at half past four in the morning was heaving with people. On the other side of the mountain from the Zugspitze Autobahn, however, I saw nobody except a few chamois until I was heading down the hill in the afternoon. Heading down the hill having, however, discovered that my current level of practice and training isn't up to unroped easy rock climbing in isolated situations.
Coming up later in August: another big day out with Mike, and an ambitious solo overnight trip (my first mountain overnighter for a long time), both in the Karwendel Alps. Let's see how the whole Discretion-Valour thing goes with those.
stubai revisited
The Stubai Glacier, revisited eight years almost to the day after my last trip there, turns out to be much as I remembered it. I can see now, more so than I used to, why some people don't like the exposed, bleak terrain and the lack of trees and traditional wooden Alpine huts to have lunch in. It was damn cold up there too. You never know in late March. I planned to go the the glacier because snow conditions at lower resorts can be very unreliable and unpredictable late in the season. The last time I was in Stubai at this time of year, the snow up on the glacier was fine but the run down to the valley at 1,750 metres was distinctly soupy. This year March has been cold and there was cold, dry, fresh snow in the valley all the way down to around 1,000 metres; probably most Austrian ski resorts still have decent conditions. Which at least meant that up on the glacier was quiet. We had to make an emergency stop at a ski shop to get one of those neoprene face masks for my son, who was suffering from the icy wind on the highest lifts and runs, but after that we were fine.
Anyway, you don't go to a glacier for scenery & atmosphere. You go there because nothing has thawed since October. Because, as the landlady in your bed & breakfast explains, every centimetre of snow that falls stays. You go, in other words, for powder. And the powder was great. I didn't go far off piste on my own, but in Stubai you don't need to – there's plenty of great snow right under the lifts and between the pistes where you can get that amazing flying feeling where your snowboard isn't resting on the snow, but floating through it. Which, as I explained to my wife, is what you bought a snowboard for in the first place. Pistes are just for learning.
I found a nice little game to play with my son, too, to start getting him used to his first off-piste turns: slaloming round the piste edge markers. Just one turn in the deep and/or bumpy stuff isn't too challenging, then back onto the piste. Turned out to be good training not just for him, but for me too – for example practicing that awkward powder-to-piste transition where I always used to fall over, but don't so often any more.
Stubai from Munich has the added benefit of being only a fraction over two hours door-to-lift. If you go the direct way over the mountains; if you're lucky with the traffic and can take advantage of the fact that the A95 from Garmisch-Partenkirchen to Munich is one of the few remaining autobahns where "no speed limit" still actually means you can drive fast.
Alpbach ☆☆
| | |
| --- | --- |
| Times visited: | twice |
| Last visited: | March 2009 |
| Rating: | Decent, worth a visit |
Alpbach isn't, by any objective standard, a great ski area. It's not very big. There are a couple of quite long and interesting red runs down to the valley, but otherwise everything is pretty short. Snow conditions aren't particularly reliable and have been ok but not great both of the times I've been there.
But. We spent a week there last year, another week this year and we've booked to go back next year.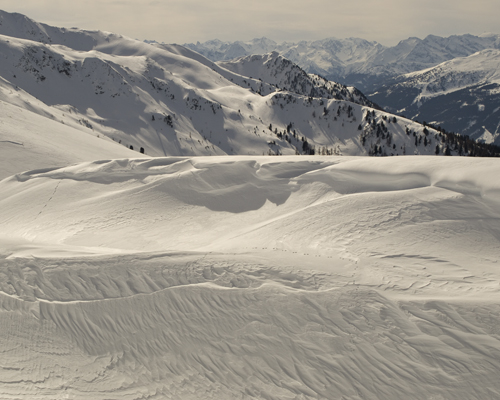 Alpbach snowscape, Austria, March 2009.
It's a nice place. Alpbachtal is a beautiful valley, and very pleasantly laid back by Austrian ski resort standards. If you're not looking for jumping nightlife, the two villages in the valley are much friendlier places to spend time than a big heavily commercialised resort like Mayrhofen in the next valley over, even though somewhere like Mayrhofen might objectively have much more and better skiing.
Mittenwald / Kranzberg ☆
| | |
| --- | --- |
| Times visited: | once |
| Last visited: | February 2009 |
| Rating: | Quaint |
I couldn't honestly recommend Kranzberg as a snowboarding destination but, should one happen to find oneself in the area, there's a fun afternoon to be had there. I was in Mittenwald last month for a friend's fortieth birthday party, and spent a very pleasant Sunday afternoon on the Kranzberg.
Mittenwald is a Bavarian mountain town, famous according to the tourist brochures for violin making, situated between the Wetterstein and Karwendel Alps. The Wetterstein and Karwendel are steep, rocky, heavily protected in the case of the Karwendel by National Park status, and almost entirely unsuitable for skiing. But almost every Alpine town manages to find some ski possibilities somewhere. Mittenwald has the Dammkar: a single ski run dropping well over a thousand metres from the top of the Karwendel, reached by a cable car, avalanche patrolled but not pisted. It's supposed to be steep, long and great fun. Three or four of us middle aged guys at the party were keen to demonstrate our continuing manhood on it, but in the end we decided it would be unsociable, and we should do something else instead that was fairer for the non-skiers (and for the skiers with nothing to prove, such as our wives).
Mittenwald also has the Kranzberg, a small foothill of the Wetterstein that has some ski runs. The Kranzberg is reached from the edge of town via a little single-seater chairlift. The lift is old and slow, but on the leisurely journey you have plenty of time to admire the idyllic, gently rolling parkland that it passes over and the impressive view of the Wetterstein. It leads to to a toboggan run – ideal for the non-skiers – and an alleged ski run. Small children, sledges and snowboards (ideally not all at the same time) are carried on laps.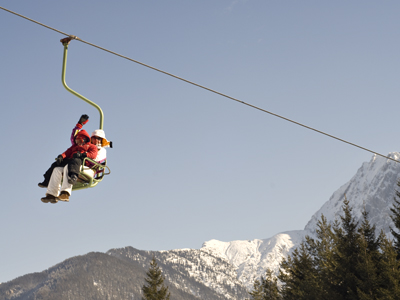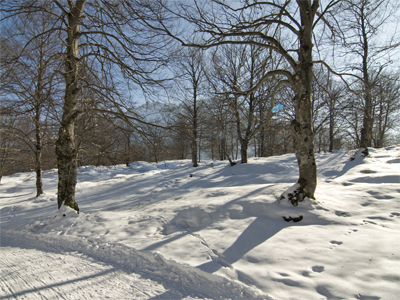 If you thought "idyllic, gently rolling parkland" isn't a landscape description you'd normally associate with a ski area, you'd be right. The blue run back to the chairlift is very scenic, but it is also the least downhill-sloping ski run I have ever seen. Probably great fun for lazy ski tourers, but not at all on a snowboard. The other (north) side of the mountain is somewhat more normal, with ski runs that actually go downhill most of the way, reached by a couple of quite steep draglifts. The runs are short but pleasant, and every snowboarder should practice draglift skills from time to time, however reluctantly – you never know when one of the accursed things might obstruct your path to an otherwise decent bit of mountain.
As I've said before, "if I've only been somewhere once, please assume that my rating is heavily biased by whether the snow there happened to be good or bad that day." It's hard to avoid having fun on a snowboard anywhere where there's half a metre of fresh snow by the side of the piste, and the piste-side snow last weekend at Kranzberg was lovely.
I found a(nother) website dedicated to quaint and obscure German ski resorts. Here's what they have to say about Kranzberg.
back on the glacier
For various reasons – different interests and priorities, different group of friends – in the last two winters I haven't revisited any of the places I used to regularly go snowboarding back in 2000-2001 (apart from a single day at Waidring)
This weekend, though, I'm off with the family to the Stubai glacier, which used to be one of my favourite boarding spots. I'm excited to see how it holds up. Assuming it's glacier weather; you never know in the middle of March. At the moment the weather's mild, with wet, heavy, dangerous snow lower down, so a good time to go up high on glaciers. Towards the end of the week it's supposed to get colder again though. In which case there are plenty of other lower resorts in the area that I've never been to, and that would be good too.
Hochfügen ☆☆☆
| | |
| --- | --- |
| Times visited: | once |
| Last visited: | January 2001 |
| Rating: | Good |
I only visited Hochfügen once, a long time ago, but I was impressed and I'm keen to go back.
The top of the ski area is a huge bowl of powder snow. It was when I went there, anyway, which was admittedly the day after a big snowfall. It's high up for a non-glacier resort (as hinted at by the name "Hochfügen") and generally has a reputation for good snow. There are also long, steep and interesting looking red and black runs down in the trees. And a lift connection over the other side of the mountain to the huge Hochzillertal ski area, which I've never visited but I suspect there would be little danger of running out of things to do.
spitzing by bob
On Sunday I went snowboarding at Spitzingsee by train on the Bayerische Oberland Bahn. There's a lot to be said for not driving to the mountains. As with taking the bus, there's a minor amount of hassle getting self and gear to & from the station, but then you can sit and read or listen to music or sleep. And coming back in the evening when you're tired from a hard day in the mountains is a lot safer and more pleasant if you fall asleep on a train, than if you fall asleep driving on the autobahn. (My family don't really appreciate this benefit, since they listen to music or sleep anyway while I drive). Door-to-lift time to Spitzingsee for me by public transport is under two hours. Under an hour door-to-lift is theoretically possible by car, assuming no traffic jams, but assuming no traffic jams on a sunny Sunday after it just snowed for three days would be foolish.
I really don't fit the snowboarder demographic on the BOB though. The rest were teenagers on their way to Spitzingsee's "Burton Funpark". "Fun" meaning, in this case, terrifying-looking leaping around in the air. Tricks are for kids. It really struck me just how beautiful these young people are – these being, of course, fit, athletic young people cheerfully heading out for a day's play with their friends. My son, I found myself thinking, might be one of these beautiful young men in ten years or less, off in search of adventure with his friends. If he is, I hope the young women he travels with will be just as beautiful as the ones today. I also hope he'll be able to think of a way to impress them without risking his neck leaping around in half-pipes – which just means I'm finally beginning to understand how my climbing was for my mother.
I was just back from two weeks' family holiday, and I had decided to award myself a day of Me Time. Snowboarding alone has its disadvantages, though. It's not safe to do any kind of serious off-piste. The Bavarian avalanche warning service said the risk level below the treeline on Sunday was moderate, but avalanches aren't the only bad thing that can happen to the hapless lone mountain-goer. Not by a long chalk. Quite apart from danger, there's also the social embarrassment of looking like Johnny No Mates. But reality must be faced, and part of my current reality is that I do indeed have no mates near at hand who are able or willing to abandon their families at short notice for a day out in the mountains. I still had a great time. And next weekend I go out for my first ever serious off-piste tour with two of my middle aged dad mates – planned and approved by our wives long in advance.
Excellent Spitzingsee tip from my colleague Ketil: on a good day, when the main runs from the Stumpfling and Sutten lifts are sure to be unpleasantly crowded, take the old Taubenstein cabin lift up the other side of the valley instead. No lift queues, quiet pistes, better snow even. There's a nice little safe & easy powder slope to warm up on between the blue pistes on the Maxlrainer draglift.
stallion's head
Do everything you fear
In this there's power
Fear's not to be afraid of
James, Sound
I feared the Rosskopf (Stallion's Head) draglift at Spitzingsee when I first saw it, almost exactly a year ago. Looking across at it from the top of the main chairlift, it looked to be the steepest and fastest draglift I had ever seen. So yesterday I went on it. It's ok. It is indeed very steep for a draglift, but it doesn't feel as fast as it looks and it's only short.
As it turns out, it's probably a good thing that the Rosskopf has an intimidating-looking lift. The top hundred metres or so of the unpisted black run down the front of the mountain are very steep indeed. In anything other than yesterday's perfect snow, it would be one of the hardest things I have ever done on a snowboard. Yesterday it was fun – just.
Togliatti
| | |
| --- | --- |
| Times visited: | once |
| Last visited: | January 2005 |
| Rating: | hmm |
My wife comes from Togliatti, a city in the Russian steppes on the banks of the Volga. From, in other words, one of the least mountainous places in the entire world. It snows there a lot, though. And where there is snow, there are people wanting to slide around on it. To my not inconsiderable surprise, Togliatti has a ski area, situated in the woods where the banks of the Volga are a couple of hundred metres or so high.
I wouldn't have bothered, necessarily, but my wife's friend's teenage daughter and a couple of her friends wanted to try snowboarding, and it had been mentioned that I had done some, so I was appointed snowboard teacher for an afternoon. I think at the time this was my second day snowboarding in four years. But not to be too hard on myself – the quality of instruction those kids received was quite possibly better than nothing. About the same level, in fact, as I received from my friends when I started.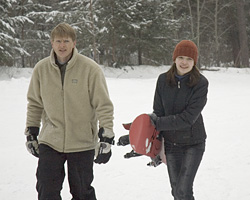 Togliatti is not – need I emphasise this? – somewhere to consider as a ski destination. But snowboarding is something to do for an afternoon should you for some reason happen to find yourself in town – and a good addition to my list of obscure and funky places I have boarded.
If teaching snowboarding to beautiful Russian women should become tedious for some reason, you can go cross country skiing in the woods with beautiful Russian women instead. As my son demonstrates here: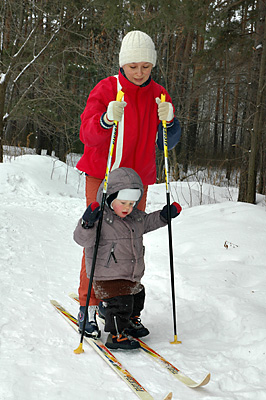 UPDATE 2nd February: we met up with an old friend of my wife in Mittenwald. She clearly hasn't been home for a while, because she was incredulous when informed that there is a ski area in her home town.
UPDATE II 6th February: good heavens. With a single bound, I leap to the top of a a google search results page.
riding fakie
Apparently it's not called "riding fakie" any more, it's called "riding switch". I think of it as "snowboarding backwards", which makes equally little sense, because you don't normally snowboard "forwards" anyway. You snowboard sideways; it' just that people turn out to have one direction in which they can most comfortably snowboard sideways, and after a while that starts to feel like "forwards". Like most people, I snowboard left foot first or "regular"; the right foot first minority are "goofy". (I don't think this corresponds to right- or left-handedness; I have the impression there are more goofy snowboarders than left-handed people)
British snowboarding guide and instructor Neil McNab says in his book that learning to snowboard in the opposite direction is something all snowboarders should learn, both as a technical drill and as a useful skill for some situations on the mountain. On the other hand, American snowboarder and climber Stephen Koch says it is "easier to make turns on the north face of Mount Everest" than to learn to ride switch.
I practice riding switch now and again if I find myself on a particularly easy and uncrowded bit of piste, or if I'm child-minding on the baby slope. On a good day I can string together up to three turns before falling over, at ignominiously low speeds and slope angles. It would have been a possibility for my afternoon at Ödberg, except that doing technique drills and falling over a lot is ok for half an hour, but not for a whole afternoon. Hence the skis.
Ödberg
| | |
| --- | --- |
| Times visited: | once |
| Last visited: | January 2009 |
| Rating: | Typical of its kind |
The Problem: you are at a tiny ski area aimed at small children and total beginners. It is a sunny Sunday afternoon, and busy. Snow conditions are not good. You can't be bothered to spend ten minutes in a lift queue in order to spend two minutes on an easy slope with crappy snow.
The Solution: be a total beginner. Leave your snowboard in the car, rent a pair of skis and spend the afternoon enjoying the thrill of the fall line on the baby slope.
Ödberg is a typical example of a phenomenon that is common throughout the foothills of the Alps: the village ski slope. Almost every village has a sloping field with some snow on it and a drag lift. These are generally friendly places, less intimidating for kids and beginners than a big ski resort, where the baby slopes are often an afterthought crammed in next to the car park. Ödberg is actually bigger than most: it has two baby slopes and a whole five hundred metres of blue slope, complete with an International Ski Federation approved slalom course. There was even a race in progress when we were there.
My son's kindergarten ski course is taking place here in February, so we thought we'd go and check it out. Ski courses in kindergarten are quite normal in Munich (and probably everywhere else within an hour's drive of the Alps). My son couldn't go last year because they are only for over fives – not that anybody has any objection to under fives on skis, far from it. Starting at three or four is normal, and I've seen four year olds on the mountain skiing better than most adults. But under fives are too high maintenance in other ways; it would be unfair to expect ski teachers to deal with large troops of them without parents within easy reach.
The snow at Ödberg is thin and rock hard at the moment. The huge dumps of fresh snow that snow-forecast.com is reporting all over the Alps evidently haven't reached the northernmost foothills.
If your party doesn't include small children and/or total beginners, Ödberg would not be a wise choice. Spitzingsee is only twenty minutes' drive away; go there instead.
Sölden
| | |
| --- | --- |
| Times visited: | once |
| Last visited: | September 2000 |
| Rating: | might be good in winter |
Hochsölden was the scene of my one and only attempt at summer snowboarding on a glacier. I didn't like it; very few runs were open, and some were horribly icy.
Expensive too: on the road back down from the glacier I overheated the brakes on my car and ended up having to buy new disks.
A rating would be unfair; for all I known Sölden is probably a great place for winter sports, in winter.
Seefeld im Tirol (Rosshütte) ☆☆
| | |
| --- | --- |
| Times visited: | twice |
| Last visited: | January 2009 |
| Rating: | Decent, worth a visit |
Seefeld / Rosshütte is a small but quite pleasant beginner's resort in the Karwendel mountains near Innsbruck.
My first impressions were not at all favourable: full car parks, crowded slopes, long lift queues. This was, admittedly, in the Christmas-New Year holiday week with supposedly some of the best early season snow in years, so not entirely surprising.
Once up on the mountain, matters improved. Good snow on pleasant, sunny, west-facing slopes. High enough (1,200 to 2,000 metres) that I would expect snow conditions to be pretty reliable. A couple of pleasant blue runs that would be not entirely unchallenging for total beginners, but were ideal for my two not-quite-total-beginner skiers at the start of their second ever season. (Especially after the previous week's not entirely encouraging outing to Söll.) Spectacular views of the Karwendel mountains from the top lift station, from which a short and straightforward "black" run leads back down to the blue slopes.
Seefeld is a big, busy resort town for such a small ski area. Apparently there are miles and miles of cross country ski trails in the surrounding country, which is a high snowy plateau between the Wetterstein and Karwendel Alps. I assume these are probably the main attraction.
bavarian snow conditions
Current Munich city weather: a little above freezing, light rain much of the day yesterday, rain mixed with wet heavy snow falling now.
Huge snowfall a bit higher in the (north eastern) Alps, probably.
Austrian radio weather forecast confirms (click on "Bergwetter", best mountain weather forecast for the Eastern Alps, in German), says snowfall currently actually heaviest in the south eastern Alps.
Serfaus-Fiss-Ladis ☆☆☆☆
| | |
| --- | --- |
| Times visited: | once |
| Last visited: | January 2009 (yesterday) |
| Rating: | Very Good |
Serfaus-Fiss-Ladis is a huge area of ski lifts linking three villages in the western Tirol. By Austrian non-glacier standards it's high - 1,400 to 2,800 metres. Great high mountain scenery, very good snow at the moment.
I suspect this would be great place for advanced skiers. There are lots of black runs, and boy are they harder than the ones in Gasteinertal. I tried one, the Fiss-Ladis "Directissima", but I should have listened to the guy in the lift who said it was really steep. It's really steep. I lost my nerve and blew my second or third turn, and slid a long way on my back, wondering when I was going to stop and feeling very happy that I was wearing the helmet my wife bought me for my birthday last year.
Wear a helmet, folks.
After this I felt no further need to prove my manhood by embarrassing and scaring myself on other runs with names like "Vertical" or "Kamikaze". Instead I spent the rest of my day cruising around enjoying myself on nice, mellow red and blue runs and looking for bits of powder between them.
I went to Ladis by bus on a day trip from Munich organised by my employer's company sports club. Lots of companies in Munich do these in the winter, and it's an interesting option. If you only want to go to the mountains for a day, there's a lot to be said for somebody else doing the four hours driving while you snooze or admire the scenery. Especially in the inevitable autobahn traffic jam on the way back when you're tired. On the other hand: these buses leave very early in the morning. I like getting the early ski lifts and having the slopes to myself for an hour – my son and I had a great boys' private mountain one morning last week in Bad Gastein – but persuading my wife to get out of bed at 4:30 just to go skiing turned out to be unfeasible.
austrian snow conditions
Warmer weather and light falls of new snow have dramatically improved conditions in the Austrian Alps.
Temperatures are now a bit a bit below freezing in the valleys, about ten degrees (celsius) on average warmer than a week ago. On-piste snow is a lot more mellow and pleasant as a result.
Off-piste there's enough fresh snow to be enjoyably boardable. Dream powder it's not by any stretch of the imagination; floating through a couple of powder turns, then hitting a stretch of old bumpy snow lurking underneath, is the order of the day. But that's ok: as the great rock climber Ron Fawcett said, "if you're not falling, you're not learning". And after a week of nothing but increasingly cement-like pistes, I was delighted to get the season's first couple of runs in on the proper stuff.
See also the excruciatingly detailed report and analysis on snow-forecast.com.
St. Johann im Tirol ☆☆
| | |
| --- | --- |
| Times visited: | five or six |
| Last visited: | March 2001 |
| Rating: | Decent, worth a visit |
St. Johann im Tirol is the place where I learned to snowboard. I have fond memories of it for that reason, and it's an ok, beginner-friendly place, but it's not really that great.
There are a couple of decent blue runs from the middle lift station. Quite long, attractive and interesting but not too difficult. (Although one of them is quite steep at the bottom, which alarmed me when I walked out of the carpark to the lift on my first day – "I'm not going to have to go down there am I?" Er …) These are where I learned to snowboard: my friends sneered at nursery slopes. And there are a few red runs, and one black that I never did.
The ski area at St Johann is low down, west-facing and catches plenty of sun. This can be very pleasant when it's cold and snowy, but it also means snow conditions can be unreliable. I boarded there on grass and gravel on Boxing Day 2000, and tore my board up something rotten. (Fortunately I broke that snowboard completely a few weeks later in an embarrassing collision with a building at Kitzbühel, so I could go out and buy a new one.) St. Johann is also the only place I have ever snowboarded in the rain, a most unpleasant experience that I have no intention of ever repeating.
Local tip: don't stay in St. Johann itself, stay in the nearby village of Gasteig. Gasteig is right at the foot of the spectacular Kaisergebirge mountains. Behind the hotel there's a shed where you can rent a sledge, and either walk a couple of miles or get yourself and your friends towed up the mountain by tractor to an alm (mountain pub). From here, having relaxed sufficiently, you return to the valley via a toboggan run. Americans think Europe is stifled by over-regulation and bureaucracy, but I can't even begin to imagine an American ski resort's liability insurance allowing this sort of thing. Austrians on the other hand are very clear on the inalienable human right to throw oneself down mountains in whatever way one sees fit. It is after all the basis of their economy.
Spitzingsee ☆☆
| | |
| --- | --- |
| Times visited: | twice |
| Last visited: | December 2008 |
| Rating: | Decent, worth a visit |
Spitzingsee is an attractive and easily accessible mountain area right on Munich's doorstep. Consequently I've been there quite a few times hiking, mountain biking and sledging. Once for a full moon snowshoe hike, which was a magical experience. Snow glitters in moonlight. The mountains aren't very high – about 1,600 metres – but for some reason there's often plenty of snow here when there's hardly any in the surrounding area. So there's also skiing.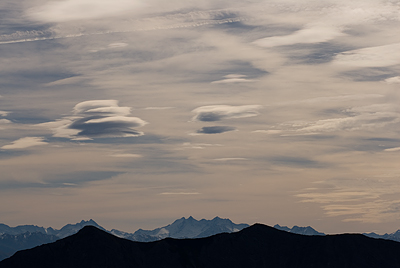 view from the Rotwand, near Spitzingsee
The ski area isn't huge, and much of the lift system isn't up to Austrian standards, but still there are some enjoyable and worthwhile runs. It wouldn't be a good place for complete beginners, but a couple of the "red" runs are really easy. My family had a good time when I took them there with only one week's skiing experience. Both my snowboarding days at Spitzingsee were family days out, but it looks like there would be plenty of more challenging stuff to do. Board The World was impressed and has some insider tips.
Don't, however: decide to go to Spitzingsee at short notice on a Sunday in December when the weather and the early season snow are both unexpectedly good. Well, maybe do: the snow might well be good and you might have a pleasant start to your season. Just try not to be too surprised or disappointed that half of Munich made exactly the same decision you did and the morning lift queues are horrendous.
Waidring / Steinplatte ☆☆☆
| | |
| --- | --- |
| Times visited: | four or five |
| Last visited: | March 2008 |
| Rating: | Good |
Very good place for beginners. I liked Waidring when I was a beginner snowboarder; my family loved it when I took them there as beginner skiers last year.
Lots of wide, pleasant blue runs served by fast modern chairlifts. Some, albeit limited, possibilities for the more experienced & ambitious: a couple of ok red runs, one solitary steep black run from the top of the mountain, some short but sweet off-piste opportunities dropping down into the valley to the left (west) of the main slopes if there's powder.
The Steinplatte mountain isn't very high, about 1,800 metres, but it's a north facing bowl that often holds much better snow than other resorts at similar height in the region.
Steinplatte is on the Austrian/German border. Waidring village is on the Austrian side, and has access to the mountain via a cable car up some spectacular cliffs. The ski area is also reachable from the village of Reit im Winkl on the German side. Reit im Winkl is a pleasant little place, and a major centre for cross-country skiing, but access to Steinplatte is via a bus ride and then a long drag lift, not particularly recommended for snowboarders. I prefer to drive the extra half an hour to the Austrian side.
Kitzbüheler Horn ☆☆
| | |
| --- | --- |
| Times visited: | once or twice |
| Last visited: | March 2001 |
| Rating: | Decent, worth a visit |
Kitzbüheler Horn is the light side of Kitzbühel.
It's on a separate mountain the other side of the valley from the rest of the Kitzbühel ski area. Actually the same mountain as St. Johann im Tirol; the summit of the Kitzbüheler Horn is a couple of hundred metres directly above the top lift station of St. Johann – although it's a couple of hundred metres of what looks like it would be pretty rocky, extreme and unpleasant off-piste.
The pisted runs are ok. There's a permanent ski slalom course, on which I discovered that a skier's racing line is next to impossible to follow on a snowboard, and a boardercross course that I didn't bother with. Tricks are for kids. (Besides, it looked far too difficult). The real gem of the Kitzbüheler Horn for snowboarders is hidden, though: over the back of the mountain there's a single pisted run down a long north east facing valley. The entire valley was full of glorious powder snow when I was there; friends who go there regularly tell me that it often is.
Kitzbühel ☆
| | |
| --- | --- |
| Times visited: | twice |
| Last visited: | January 2001 |
| Rating: | Don't bother |
Kitzbühel is a famous, popular and generally highly rated ski resort. I don't like it at all.
Kitzbühel actually has two reputations. One is that it's a fashionable hangout for Munich's – and, so I hear, increasingly Moscow's – rich and famous. A kind of low-altitude St. Moritz. Which doesn't really interest me either way. The other is that the ski area itself seems to be very much liked by proficient skiers. Which I don't get.
A caveat: my two visits to Kitzbühel were early on in my snowboarding career and I might form a different opinion in the (admittedly unlikely) event I were to go there again now. And it's a big area: the parts of it I haven't visited might be better than the ones I have. But. I have two major objections to snowboarding at Kitzbühel. One is that the the area consists of lots of small mountains, with lots of flat and narrow ski tracks to get between them. Snowboarder hell. The other is that I like long, sweeping runs where I can get into my rhythm, and days when I spend more time on snow than on lifts. Kitzbühel consists of lots of small mountains and the runs, although they might be very nice and interesting in other ways, tend to be short.
I took twenty minutes to go down the world famous Hahnenkamm downhill run. I only have to improve by a single of of magnitude, and I could be contender.
Sportgastein ☆☆
| | |
| --- | --- |
| Times visited: | once |
| Last visited: | January 2009 |
| Rating: | decent |
Sportgastein is supposed to be the Gastein valley's "high mountain" resort with the most reliable snow conditions (although it's only three hundred metres higher than the Hohe Scharte at Bad Hofgastein)
Small ski area: one lift, with a couple of runs each side. Pleasant open red pistes above the middle stations; short but steep black runs below the middle station, that I found icy and difficult in current conditions.
Half hour bus ride from Bad Gastein through the narrow, wild and spectacular upper Gastein valley.
Here's an informative roundup of the different Gasteinertal ski areas, by somebody who clearly knows the region far better than I do.
austrian snow conditions
Just back from a week's holiday in Gasteinertal in Austria, and prior to that over Christmas was in two other resorts in two different parts of the Austrian alps and – on the north side of the Alps anyway – it seems to be pretty much the same everywhere. The local papers and various websites I've read are talking about the best early-season snow in years. For all I know it might well be – it's certainly far better than some previous attempts I've made at Christmas / New Year grassboarding – but with some major caveats.
Namely: it has barely actually snowed since before Christmas. It has been cold, so the snow from before Christmas is still lying, but it's old and hard now. The light dusting of new snow that Austrian radio was forecasting for the middle of last week showed no sign of materialising.
On-piste above about a thousand metres was good pretty much everywhere up to a week or so ago, but in most places is getting pretty compact and hard now. Lots of places are pleasant enough in the middle of the day and in the sun, a lot less so early or late in the day and in the shade. (This from the perspective of a snowboarder on holiday with two skiing beginners. I imagine the conditions might well be great for advanced piste skiers, but don't take my opinion too seriously on a subject I neither know nor care about.) Easily accessible off-piste everywhere is tracked out, hard and not worth bothering with until there's another big dump of fresh snow. Valley runs below a thousand metres are generally not much fun, for various reasons (see my separate area reports).
On the south side of the Alps it may be different: I seem to recall snow-forecast.com saying the best conditions so far are in the south-western French and Italian Alps.
Dorfgastein / Grossarl ☆☆☆
| | |
| --- | --- |
| Times visited: | four |
| Last visited: | today (January 2009) |
| Rating: | Good |
Pleasant little ski area: the most gemütlich in the Gastein valley. It's small, seems to be generally quieter than the other ski areas in the valley, and it's a little lower, with trees almost to the top of the mountain. This is (a) pretty and (b) provides shelter from the wind, with the result that the best of the remaining pre-Christmas natural snow in the area is here, especially on the Großarl side. A pleasant contrast to Bad Gastein, which is only a couple of hundred metres higher but has bleak, treeless upper slopes where most of the natural snow has blown away and even the artificial snow on the pistes is thin.
The Dorfgastein side of the mountain faces west and Großarl on the other side of the mountain faces east, so it's possible to stay in the sun for much of the day. Both sides are pleasant: a slight drawback is that the connection from Dorfgastein to Großarl is only possible via red runs or a short walk, so tricky for beginners & small children. Good snow down as far as the middle stations on both sides. Very little natural snow below: cold enough for there to be plenty of artificial snow on the pistes but it's very hard and unpleasant going, and otherwise the west-facing slopes are bare below a thousand metres.
Several pleasant red runs through pretty forested mountain scenery. Only one blue run on the Dorfgastein side but it, too is long and interesting and my family loved it. One short and straightforward black run, which I am fond of as it is the scene of my only ever overtaking of a skier on a black run.
Bad Hofgastein ☆☆☆☆
| | |
| --- | --- |
| Times visited: | four |
| Last visited: | January 2009 |
| Rating: | Very good |
End of a week's family holiday in Bad Hofgastein. The local mountain, Schossalm / Hohe Scharte, is a very good ski area. Good snow at the moment, especially higher up – the mountain is a concave bowl, and so seems to have held the snow better than the neighbouring Stubnerkogel. The slopes seem to get more sunshine too. Spectacular high mountain scenery.
Big area, lots to do, especially long & challenging red runs – the Hohe Scharte Nord, allegedly the longest pisted run in the eastern Alps, is way more interesting than the similar-length valley run at Stubai, and passes through some spectacular scenery at the top. Looks like there would be lots of good off-piste given a decent fall of snow. Family-friendly blue runs below the treeline are mostly Skiwege (forest roads in summer), not ideal for snowboarding but mostly wide enough, and good enough snow, to be ok. My two not-quite-beginner-any-more skiers like them.
The valley run to Bad Hofgastein village, though, is a scraped-bare icy nightmare in its lower reaches. Don't bother until it snows again.
Lots of Russians – not just my two – here this week (Orthodox Christmas on Tuesday), but generally not too crowded as most of the New Year's week Germans, Brits and Dutch have gone home.
Zauchensee ☆☆☆☆
| | |
| --- | --- |
| Times visited: | twice |
| Last visited: | today (January 2009) |
| Rating: | Very good |
Zauchensee is quite high by Austrian non-glacier standards, 1350 to 2200 metres, and a north-facing bowl at the head of its valley, so should be pretty reliable for snow. Snow was certainly good when we were there last Easter (but then snow was good everywhere in Austria last Easter). There are three main lifts. Two of them offer longish, interesting and family-friendly blue runs, but the runs down from the highest lift, the Gamskogel, are too long and difficult for a four year old.
My days at Zauchensee were family outings, but there looks to be lots of off-piste potential for real boarders. My ex-colleague Scott, a far more experienced boarder than I am, raved about it. These Finnish guys were impressed too.
Kleinarl / Flachauwinkel ☆☆☆
| | |
| --- | --- |
| Times visited: | once |
| Last visited: | today (January 2009) |
| Rating: | Good |
Small but charming ski area in between the larger resorts of Wagrain, Flachau and Zauchensee, with a lift connection to Zauchensee. We visited it as the start and end of a multi-mountain family ski adventure, Kleinarl-Flachauwinkel-Zauchensee and back, so were more concerned with making progress than taking our time and looking around, but were charmed and impressed nevertheless.
Also impressed that my five year old son, at the end of his second ever week of ski school, finished a day out, there and back over three mountains, crying because the lifts were closed, complaining that his parents ski/snowboard like lahme Schnecken (lame snails: true), and clamouring to do more.
Very pretty forested mountain scenery, good on-piste snow at the moment. Off-piste (as everywhere else in the area currently) old, hard and tracked out; but it looks like there would be loads to play with after a decent snowfall. Not many pisted runs, but certainly enough to be interested for a couple of days, and it's on the same lift pass as the surrounding bigger resorts. The Flachauwinkel side is east-facing and Kleinarl is west-facing, so it's possible to ski in the sun morning and afternoon. The Flachauwinkel side is quite easy-angled, which means the family-friendly blue runs are wide open slopes, a lot more pleasant and interesting than the narrow and boring Skiwege that tend to dominate the blue runs on the bigger and steeper mountains hereabouts.
Highly recommended area for beginner and family skiers. Looks like it would be great fun for snowboarding given decent off-piste snow conditions. Probably not much here for advanced skiers (despite Flachauwinkel being the home of downhill legend Hermann Maier) but I don't care about that.
Bad Gastein ☆☆☆☆
| | |
| --- | --- |
| Times visited: | three |
| Last visited: | today (January 2009) |
| Rating: | Very good |
Nice mountain – long, interesting runs, beautiful scenery. Lift connection (brand new, apparently) via Angertal to the next village/mountain, Bad Hofgastein/Schlossalm, so loads of possibilities.
Bad Gastein is an object lesson in how the details of local geography affect snow conditions, and why it is therefore not a good idea to take generalisations about conditions in an entire mountain range, country or even valley too literally. Bad Gastein's mountain, the Stubnerkogel, has a dome-shaped summit significantly above the tree line. The snowfall from before Christmas has had no freeze-thaw cycle to consolidate in the last couple of weeks of cold, dry weather, and much of it has just blown away from the exposed slopes. At the top and on the east slopes facing the town of Bad Gastein, what snow there is is good, but it's getting thin and stony in a lot of places. Another decent snowfall desperately needed, but there's no sign of one. The more sheltered runs down in the trees on the north side (Angertal) are still excellent.
Bad Gastein itself is a curious town. A nineteenth century spa resort that long pre-dates skiing as a mass tourism industry, it is situated around hot springs right where the wild and narrow upper Gastein valley drops into the wider and friendlier lower valley. Big old hotels perched on the edge of the chasm, and a railway station. Brighton in a gorge.
The apres-ski party scene is not something my five year old son and I generally do much of, so don't expect to read recommendations in this blog on a regular basis. We did, however, like the Silver Bullet in Bad Gastein.
Söll ☆
| | |
| --- | --- |
| Times visited: | once |
| Last visited: | December 2008 |
| Rating: | Don't bother |
Getting close to current snow conditions reports now. Last Sunday, anyway, and it hasn't snowed significantly since.
"Don't bother" for families with beginners and/or small children. Might be good for more proficient skiers – decent looking red and black slopes on the Hohe Salve.
Söll is part of "Skiwelt" (Ski World), Austria's largest (but low-lying) interconnected lift area. We went there because it is the first village one reaches in the Skiwelt coming from the Autobahn. Mistake. Dark, cold north-facing slopes. Crowded: big queues for the lift to the one and only (short) easy, sunny blue slope. Connection to the better-looking other parts of Skiwelt only via red slopes unsuitable for beginners and small children.
Old, hard snow but good enough on most of the pistes higher up, although some valley runs still closed because not enough snow has fallen yet.
Hoher Bogen ☆
| | |
| --- | --- |
| Times visited: | once |
| Last visited: | January 2008 |
| Rating: | Don't bother |
Tiny, obscure ski resort in the Bavarian Forest.
"Don't bother" is a little harsh. Hoher Bogen is certainly not worth travelling to as a ski destination, but if you happen to find yourself in the area for other reasons, given decent snow there's a pleasant enough half day to be had there. Although the Grosser Arber nearby looks much better.
There are plenty of other reasons to be in the Bavarian Forest, which is generally an interesting and attractive region. I've already mentioned some other interesting and quirky things there, in addition to which I highly recommend the zoo at Lohberg, focused on the native animals of central European forests and mountains. And the pub opposite the zoo, which doesn't look much but turns out to be friendly and with excellent food and beer – together with generally the fact that the Bavarian Forest is one of the remaining areas of traditional rural Bavaria where almost every village has its own excellent local brewery.
Hintertux Glacier ☆☆☆☆☆
| | |
| --- | --- |
| Times visited: | three or four |
| Last visited: | February 2001 |
| Rating: | Fantastic |
Hintertux is the best place I have snowboarded.
Compared to Stubai Glacier in the next valley over, Hintertux has generally steeper and more challenging pistes, plus similarly limitless off-piste opportunities.
In bad weather it can get very bleak indeed up on the glacier, in which case the run down through the trees from the middle to the bottom gondola station offers some respite. And being first down the other valley run, the "schwarze Pfanne", in a metre of fresh powder the morning after a big storm, is my finest snowboard experience ever to date.
3250 metres is quite high up. Expect a headache if you get the lift straight up to the top first thing in the morning without acclimatising. I find the discomfort goes away after the first couple of runs, but ymmv: reactions to altitude seem to be a very individual thing that has little do do with fitness or experience.
Stubai Glacier ☆☆☆☆
| | |
| --- | --- |
| Times visited: | three or four |
| Last visited: | March 2001 |
| Rating: | Very good |
I generally like glacier boarding - I like the high mountain atmosphere and scenery. I know some other people find it bleak and prefer to be down in the trees where it's prettier. Each to his own.
Stubai has a lot going for it: it's big, it's high up and therefore has totally reliable snow conditions. It's near Innsbruck and easy to get to, but since the area is huge I've never found it overly crowded or had a problem with lift queues. There are miles of straightforward blue runs, with a few steeper bits and plenty of interesting off-piste possibilities in between. There is a run all the way down from the highest lift station at 3210 metres to the car park at 1750 metres. It's not the greatest run I've ever done, but at 10 kilometres and 1500 metres of descent it's certainly the most tiring and quite an experience.
You'd be foolish to go to Stubai – or any other glacier – in the depths of winter when there's good snow lower down. Snow-forecast.com thinks it's going to be minus 33 (Celsius) at the top of Stubai on Saturday afternoon. Minus 46, taking windchill into account. I suspect they're exaggerating somewhat: according to Stubai's own website it's minus 10 at the moment, and the generally totally reliable Austrian radio mountain weather forecast (click on "Bergwetter") is predicting minus 14 at 3000 metres on Saturday. But still: the top lift station at Stubai is situated in a little pass where the wind howls through. A friend of mine said he was up there in December once, and it really was a matter of doing your bindings up as quickly as possible without taking your gloves off, then getting the hell out of there and off down the hill before you lost any vital body parts to frostbite.
easterwinter
You could choose to spend the day before your 47th birthday thinking "shit, I'm nearly fifty. How did that happen?". Or you could choose to spend it on a mountain, most of the day going down a blue slope with your family: your son grinning from ear to ear the whole time(*) and shouting "Daddy, again!" every time you arrive back at the lift; your wife after a while deciding short blue runs are boring and she's going off up the mountain to do a three thousand foot red run, arriving back at the easy slope a surprisingly short time later, sweaty but smiling. While wife & son are having breaks you head off up the mountain yourself into still-falling fresh snow for a couple of hours of the best on-piste snowboarding you've ever done.(**)
After spring skiing in February, the week before Easter the temperature in Germany and the Alps dropped fifteen degrees with big dumps of fresh snow. We headed out at short notice, this time to Zauchensee and Wagrain. These are part of the biggest connected ski area in Austria and definitely don't come under the heading of small/funky ski resorts, unlike the other places I've been this winter. Big and commercial doesn't have to mean impersonal, though, as we learned when we told our bed & breakfast landlord that we needed to hire skis for our son. "Oh" he said "then you need to go to Sepp", and hailed a passing friend to hop in our car and take us to Sepp's shop.
In Altenmarkt where we were staying there are three big ski shops on the high street. Sepp's isn't one of them. In a town that is a major centre of Alpine skiing, Sepp's is Nordic Sports, a cross country specialist operating out of what appears to be a converted living room and garage on the edge of town. You have to respect a man who goes against the grain. He has decent Alpine kit to rent too, at decent rates, and is clearly a professional. After one look in his workshop I decide it's time for a new wax job on my snowboard. Cross country guys live and die by wax.
Sure enough, next morning my board is better than new. Three years of scratches and dents, some of them deep and embarrassingly diagonal, have disappeared under a coat of wax so deep and lustrous I can hardly see where they were. Sepp charges me ten euros. I've paid two or three time as much for inferior jobs at bigger places.
I don't do commercial plugs very often, but here's one: if you're ever in the area, you should rent your kit or get it serviced at Nordic Sports in Altenmarkt.
(*) Especially the bit where you call to him "ok, now let's go a bit faster" then promptly fall over.
(**) There are those who would say "good on-piste snowboarding" is an oxymoron. They are more proficient snowboarders than I am.
gemütlichkeit
In my previous snowboarding career, my friends and I tended to look down on German ski resorts and preferred to drive the extra hour or two to Austria. German resorts, we thought, were small, had unreliable snow conditions and antiquated lifts. In particular they have lots of drag lifts, which we as beginner snowboarders were afraid of. All these things were and are true; last week at Spitzingsee I was well and truly frightened by the sight of the Rosskopf (Stallion's Head) lift, the steepest and fastest t-bar I have ever seen.
Nevertheless. This year I have been to:
Hoher Bogen: a tiny and utterly obscure resort in the Bavarian Forest on the German-Czech border. It's the lowest altitude ski resort I've ever been to and has barely a thousand feet of vertical drop. The snow was marginal in January – long since gone now. My friend and I did every run on the "mountain" on a two hour lift pass while our families went to ski school. We enjoyed ourselves.
Alpbach: which admittedly is in Austria, but it's small and obscure by Austrian standards. Very pretty and a lot more relaxed and friendly than other Austrian resorts I've been to: gemütlich . Not a huge ski area, and here again the snow conditions were borderline - artificial over hard-packed old snow; icy on the mountain, very wet by early afternoon in the valley. But there was enough to keep me interested, and my family loved it. We've booked to go back next year (hoping for better snow).
Spitzingsee: I've known for years that Spitzingsee has a reputation as one of the best of Munich's little local ski resorts. It turns out to fully live up to its reputation for being, as we say in Germany, klein aber fein. The snow the day we went was perfect, right after we had mediocre snow all week in Alpbach. The landscape is beautiful, the runs are nice and there look to be enough of them for the place to stay interesting for a lot more than one afternoon. The guy at the ski shop was friendly, helpful and gave my wife a great deal on a set of end of season used rental gear.
Wallberg: a strange little place, whose strangeness is of a kind quite typical of Bavaria. It is a ski resort with one ski run. There's an old (1950s) cabin lift to a restaurant at the top of the mountain, from which there's a toboggan run, what looks like some prime ski-touring territory judging by the number of tracks heading off into the back country, a couple of little training lifts used by the local ski club … and a former world cup downhill run. The northern foothills of the Alps aren't very high but they're pretty damn steep in places. A friend of mine – very experienced skier – says this is the scariest ski run she's ever done. I couldn't try it due to lack of snow (the day after we had the only good snow of the year at Spitzingsee; you never know with German ski resorts. We went for a walk instead). I'd like to give it a try one day, but I'll wait for lots of nice soft fluffy snow.
These quiet little places have their charm, I am discovering. I used to like the big glacier and high mountain resorts in Austria, but so do thousands of other people. These days I don't need thousands of feet of black runs and off piste to keep me challenged and amused. And my family certainly don't(*).
Alan's Snowboarding Blog? We'll see. Probably not. The winter, what little we have had of it this year, must surely be nearly over by now. In any case, if I want to blog more about boarding then I can see I'm going to need to get good enough at it to feel safe carrying a camera. Posts like this need pictures.
(*) although my son probably will all too soon if we keep this up. At Spitzingsee we saw what appeared to be an extreme off-piste skiing class for seven year olds: a little ski-school style crocodile of them, happily following their teacher off into the woods underneath the steepest part of the chairlift. Locals, presumably.
rediscovery
Twelve years ago, in the midst of and in reaction to some major turmoil in my life, I gave up rock climbing. Climbing had been one of the major loves of my life for a decade and a half before that, but I felt it had contributed to the hole I thought I was in, so out it went. I don't miss it; it's a wonderful activity, but so are lots of other things. Yoga for example, which I took up directly afterwards.
Three years later I moved to Munich; most of my friends there went out snowboarding at weekends, so I did too. Driving down the autobahn on the way to my first outing, before I even knew anything about how snowboarding was going to be, I realised a large part of what I had been missing terribly from climbing wasn't climbing; it was simply the cameraderie of being in the car with a bunch of friends, heading out to the mountains on Friday night.
So for two winters I was a snowboarder. We were almost entirely self-taught and doubtless nowhere near as good as we thought we were, but we could go more or less where we wanted to do on the mountain. I wasn't fanatically in love with it – it seemed to be bad for my yoga, which was more important to me – but a couple of times I experienced the flying in powder snow sensation, and that really is ecstatic.
Then I spent a winter in India, then I became a father. I got out boarding once or twice a year, most years, but if you do something as little as that you can't do it well enough to really enjoy it, and I didn't miss it much.
Now my son is nearly five, the age at which kids normally start skiing around here. A week's family holiday with friends in Austria was fun. The week after we got back there was even new snow in the Bavarian Alps, for the first time in months, so we thought we would venture out again for a Saturday afternoon to a little local resort called Spitzingsee.
This was purely a family day out, and that is a different thing again from heading out to the mountains with a bunch of friends. Particularly when my wife and son are very much beginner skiers and I am a barely intermediate snowboarder. Previously we've always been out with friends who are experienced and capable skiers, well capable of helping beginners who get into difficulties. A good adult skier can just put a kid between their skis and ski down more or less anywhere; once I even saw a guy skiing with his daughter tucked under his arm. Whereas even good snowboarders, which I'm not, are severely limited in their options for helping skiers. Imagine, then, our dismay when the baby lift at Spitzingsee turned out to be closed and, after we'd walked back up the baby slope a few times, my wife didn't feel confident enough to make it down a blue slope to the nearest t-bar lift. Nor did I have any idea how either an adult beginner or a snowboarder was going to make it up a t-bar lift with a small child.
Our options at this point appeared to be: walk up and down the baby slope half a dozen times until we were all sick of it then go home, or take the chairlift to the top of the mountain where according to the map the only ways down were red (intermediate) runs. My wife wanted a bit more time on the baby slope; my son and I were bored and ready for adventure. Into the chairlift. What's the worst that can possibly happen? At best a long and humiliating walk down the mountain at the first hint of anything steep or tricky; at worst an appearance in the paper as an example of irresponsible parenting.
But no. Spitzingsee turns out to possess quite possibly the easiest "red" run in the Alps. With good snow conditions (and the snow that day was lovely) it's no problem at all for sufficiently brave beginners – of which it turns out I have two in my family. I am immensely proud of them and we had a great time. I even grabbed a couple of chances to play on slightly more challenging runs while they were resting.
(So I have still only had to walk down a ski piste once, during a total white-out in a snowstorm on the glacier at Hintertux in February of my second snowboarding winter. It was worth it. The next day my friend John and I were the first down the valley run off the end of the glacier, putting first tracks through a metre of fresh powder courtesy of that storm. Just like in the movies.)
gone boarding
Just back from a week's family holiday in the Alps. Wife and son at beginner's ski school. I had a snowboard lesson on the second day, having previously boarded for a couple of winters at weekends before my son was born, but then hardly at all for the last five years; after the lesson and by the end of the week I was boarding better, and having more fun with it, than ever before. I can get down black runs, in a manner that is perhaps lacking in elegance and speed on the steep bits, but enjoying myself and without too much embarrassing falling over. This despite snow conditions that, while ok, were more like April than February. For most of the week.
(No snowboarding pictures, since I'm still not good enough at it to feel safe carrying my camera on the mountain, and the numerous pictures I took of my son's ski school graduation "race" are really only going to be of interest to his grandmothers – for whom I spent last night printing a large batch.)
Where I really should have taken pictures – but at the time was too busy being frightened – was on the journey home. In order to avoid huge end of ski week traffic jams on the autobahn, I decided to take a short cut on a back road over the Wendelstein Alps. This, as I discovered only later, was about an hour after the Wendelstein summit weather station recorded Hurricane Emma at 140 mph. Thankfully we missed the crazy winds, but the several inches of wet, heavy fresh snow defeated us and everybody else on the road except those who stopped to put chains on (locals) or wait for the snowplough. We turned back – after proudly achieving the highest point reached without chains by anybody in our little line of cars – and found a different, longer but lower way round the autobahn traffic jam.
It was a little tense. Realistically and with hindsight, drifting to the side of the road and hitting a barrier or a tree at the speed we were sliding around at, just before we lost traction completely and gave up, would have been more embarrassing and inconvenient than seriously dangerous – but just try telling that to your hindbrain at the time. I remember being very happy that we had lots of warm mountain clothes in the car. Cameras did cross my mind too, but only briefly and I suspect my wife would have taken a dim view of me hopping out of the car and doing anything that didn't directly contribute to getting our son (who slept through the whole thing) back to safety. So you'll just have to take my word for it that the Wendelstein Alps under a heavy fall of new snow are very beautiful. We will definitely be going back there some time when there isn't a hurricane blowing.
all text and images © 2003–2010