alan little's weblog
Spitzingsee ☆☆
| | |
| --- | --- |
| Times visited: | twice |
| Last visited: | December 2008 |
| Rating: | Decent, worth a visit |
Spitzingsee is an attractive and easily accessible mountain area right on Munich's doorstep. Consequently I've been there quite a few times hiking, mountain biking and sledging. Once for a full moon snowshoe hike, which was a magical experience. Snow glitters in moonlight. The mountains aren't very high – about 1,600 metres – but for some reason there's often plenty of snow here when there's hardly any in the surrounding area. So there's also skiing.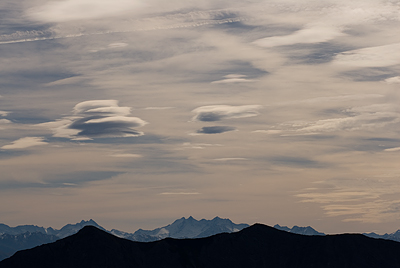 view from the Rotwand, near Spitzingsee
The ski area isn't huge, and much of the lift system isn't up to Austrian standards, but still there are some enjoyable and worthwhile runs. It wouldn't be a good place for complete beginners, but a couple of the "red" runs are really easy. My family had a good time when I took them there with only one week's skiing experience. Both my snowboarding days at Spitzingsee were family days out, but it looks like there would be plenty of more challenging stuff to do. Board The World was impressed and has some insider tips.
Don't, however: decide to go to Spitzingsee at short notice on a Sunday in December when the weather and the early season snow are both unexpectedly good. Well, maybe do: the snow might well be good and you might have a pleasant start to your season. Just try not to be too surprised or disappointed that half of Munich made exactly the same decision you did and the morning lift queues are horrendous.
related entries: Snowboarding
all text and images © 2003–2009