alan little's weblog
alps 4, alan 0
This year I've been spending more time in the mountains than I have for a long time, and enjoying it immensely. Part of spending a lot of time in the mountains safely is knowing when not to push your luck. ("Go to the mountains, don't get up shit, but also don't die, and you can call it good", says Rock & Ice magazine) But I'm starting to get the feeling my luck may have been a little too un-pushed lately. Let's see:
March: my first ever snowboard tour, on some mountain I forget the name of. With my friends Pete & Mike on skis. I learned that walking up a mountain on snowshoes, carrying a snowboard, is a lot less efficient than skiing (assuming one can ski, which I can't). And: neither snowshoes nor snowboard boots turn out to be much good for the last few metres of steep snow to the summit of [whatever it was called], which Mike danced up in his nice stiff ski mountaineering boots. Pete kindly stayed behind to look after me. Still, that was just the top bit; otherwise a fine day out with friends.
May: first big hike of the season with Mike. The idea was a traverse of the Arnspitze chain, involving some scrambling/easy climbing that looks (we hoped) a lot more impressive than it really is. But we came to a short, steep bit with nasty fall potential down a gully, and we weren't sure if we were on-route, and Mike was tired having already bivvied on top of another mountain the night before (whereas I got the first train down from Munich in the morning) so … another good but shorter than envisaged day.
Fast forward to July, and the weekend of the annual race up Germany's highest mountain, the Zugspitze. This event has a reputation for epic weather; I should have known planning a trip on the same weekend was a mistake. But my son was away staying with friends, so I planned a trip at the other end of the Wetterstein range with my wife, staying overnight at a hut and then on a klettersteig – steep scrambling, but with safety cables – up the Dreitorspitze. The Zugspitze fell race weekend lived up to its reputation: pouring rain below two thousand metres, heavy snow above. We decided to go anyway – weekends where the two of us can do something together without our son are rare and precious. Maria enjoyed the hike up to the hut, mountain walking in foul weather being a new and stimulating experience for her. (For me, having grown up hiking in the British mountains in British weather, less so). On Sunday the weather was fine; but fine weather or not, you don't take klettersteig novices up things that look like this: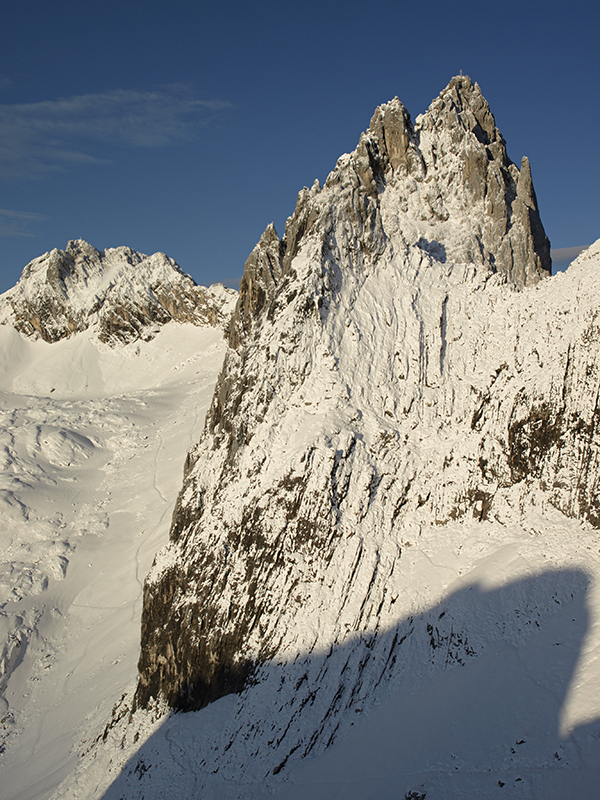 Partenkirchener Dreitorspitze, July
August: perfect weather, and I nipped out for a solo day on the Grosser and Kleiner Waxenstein. Zugspitze range again – it's less than an hour's drive from Munich and very scenically impressive. If you stay away from the overrun-with-tourists Zugspitze itself. The Waxensteins are actually right next to the Zugspitze, and the car park at half past four in the morning was heaving with people. On the other side of the mountain from the Zugspitze Autobahn, however, I saw nobody except a few chamois until I was heading down the hill in the afternoon. Heading down the hill having, however, discovered that my current level of practice and training isn't up to unroped easy rock climbing in isolated situations.
Coming up later in August: another big day out with Mike, and an ambitious solo overnight trip (my first mountain overnighter for a long time), both in the Karwendel Alps. Let's see how the whole Discretion-Valour thing goes with those.
related entries: Snowboarding
all text and images © 2003–2010