alan little's weblog
Mittenwald / Kranzberg ☆
| | |
| --- | --- |
| Times visited: | once |
| Last visited: | February 2009 |
| Rating: | Quaint |
I couldn't honestly recommend Kranzberg as a snowboarding destination but, should one happen to find oneself in the area, there's a fun afternoon to be had there. I was in Mittenwald last month for a friend's fortieth birthday party, and spent a very pleasant Sunday afternoon on the Kranzberg.
Mittenwald is a Bavarian mountain town, famous according to the tourist brochures for violin making, situated between the Wetterstein and Karwendel Alps. The Wetterstein and Karwendel are steep, rocky, heavily protected in the case of the Karwendel by National Park status, and almost entirely unsuitable for skiing. But almost every Alpine town manages to find some ski possibilities somewhere. Mittenwald has the Dammkar: a single ski run dropping well over a thousand metres from the top of the Karwendel, reached by a cable car, avalanche patrolled but not pisted. It's supposed to be steep, long and great fun. Three or four of us middle aged guys at the party were keen to demonstrate our continuing manhood on it, but in the end we decided it would be unsociable, and we should do something else instead that was fairer for the non-skiers (and for the skiers with nothing to prove, such as our wives).
Mittenwald also has the Kranzberg, a small foothill of the Wetterstein that has some ski runs. The Kranzberg is reached from the edge of town via a little single-seater chairlift. The lift is old and slow, but on the leisurely journey you have plenty of time to admire the idyllic, gently rolling parkland that it passes over and the impressive view of the Wetterstein. It leads to to a toboggan run – ideal for the non-skiers – and an alleged ski run. Small children, sledges and snowboards (ideally not all at the same time) are carried on laps.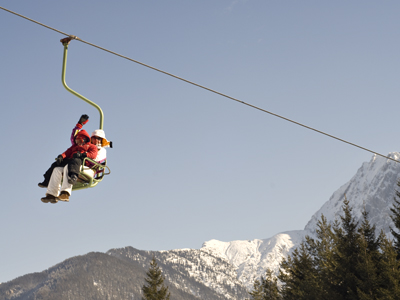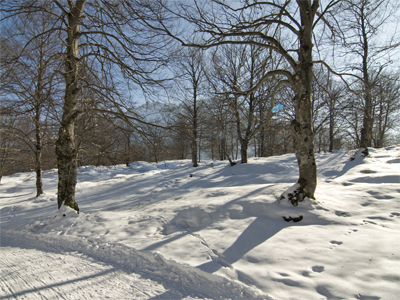 If you thought "idyllic, gently rolling parkland" isn't a landscape description you'd normally associate with a ski area, you'd be right. The blue run back to the chairlift is very scenic, but it is also the least downhill-sloping ski run I have ever seen. Probably great fun for lazy ski tourers, but not at all on a snowboard. The other (north) side of the mountain is somewhat more normal, with ski runs that actually go downhill most of the way, reached by a couple of quite steep draglifts. The runs are short but pleasant, and every snowboarder should practice draglift skills from time to time, however reluctantly – you never know when one of the accursed things might obstruct your path to an otherwise decent bit of mountain.
As I've said before, "if I've only been somewhere once, please assume that my rating is heavily biased by whether the snow there happened to be good or bad that day." It's hard to avoid having fun on a snowboard anywhere where there's half a metre of fresh snow by the side of the piste, and the piste-side snow last weekend at Kranzberg was lovely.
I found a(nother) website dedicated to quaint and obscure German ski resorts. Here's what they have to say about Kranzberg.
related entries: Snowboarding
all text and images © 2003–2010