alan little's weblog archive for may 2006
a picture a week (8)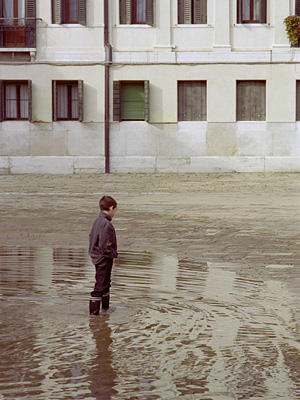 This one is a genuine film scan, shot in 2002 on traditional Fuji Reala on a retro-even-then Nikon FM2.
My first – and so far, only – visit to Venice was with Maria when she was pregnant with our first – and so far, only – child. Being an expectant father changes your perspectives. Venice is fascinating and amazingly beautiful, but it also occurred to me that it must be a lousy place to bring up kids. There are no trees or green spaces for them to play; you can't let them run in the streets for fear they might fall in and drown. Venetians seem to be of the same opinion: the population of the city has halved in the last fifty years.
The few kids who are there are quite photogenic playing in the flooded squares at high tide, though.
related entries: Photography
credit where credit's due
Credit where credit's due: I just noticed the bug I reported to Apple a while ago in Safari's rendering of Sanskrit text is fixed in Safari version 2.0.3
Camino 1.0 and Firefox 1.5 on the other hand, don't even try to render it, at least not on the Mac.
related entries: Mac Programming Language
a picture a "week" (7)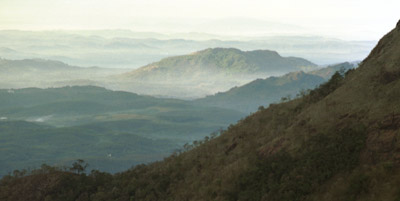 Morning mist in the Cardamom Hills, Kerala, India, January 2000.
This one has been in my Indian landscapes gallery for ages, but Denys Bourque reminded me of it last week by asking if he could use it to illustrate a report he is producing on forest conservation work in the Indian hill regions. Glad to be able to support a good cause.
It isn't a great picture. It was one of those ones where you think it might be when you press the button, but then you see the print a couple of weeks later and it isn't. C'est la vie. (At least these days with digital you get the disappointment over with sooner) I'm still fond of it though. It brings back memories of my first trip to India. I was mainly there to study yoga with Lino Miele, but for a couple of days my friend Jeffrey and I rented motorbikes and headed for the hills. Those were the most memorable days of the trip for me: going to yoga class then sitting on the beach is all very well, but for me actually seeing a bit of India away from heavily westernised beach resorts was important too.
Seeing the shop print of this one was also a big step on my road to digital photography. The whole point of the composition, for what it's worth, is the way the layers of mist are interleaved with the hills. In the print I got back from the lab everything beyond the mountain in the foreground was just blurry mist. I was sure that couldn't be right, so I had a careful look at the negative and sure enough, the bands of mist and hills were there just as I wanted them to be. So I went out and bought a film scanner, and this picture was one of the first to appear on alanlittle.org a few months later.
(Whereas now, I haven't shot a roll of film for over a year but I'm thinking seriously about going back to outsourced printing, because trying to get a decent colour match on inkjet printers I can afford is just such a time-consuming and endlessly frustrating bastard of a struggle. I simply can't get my Epson R800 to come out with skin tones I'm happy with for people shots)
related entries: Photography
if you have to ask
A Saturday Family Life Vignette.
It's not just men that don't understand women. Maria and I were in the toyshop looking for stuff for our son's birthday. "What's that?", she asks me. "It's a remote controlled submarine for the bath". "Why are you buying it?" "It's a remote controlled submarine for the bath"
baroque bach?
"How anybody can possibly use the same term to describe this and the lean, elegant, logical beauty of Bach's music is beyond me" was my reaction when I visited the Baroque church at Andechs a few months ago.
It appears to be beyond Mstislav Rostropovich too, and he knows a great deal more about these things than I ever will. He explains why he chose to record the Bach cello suites in a twelfth century Romanesque church at Vézelay and not in some baroque monstrosity like Andechs:
When I first entered this church I saw the rhythm of the internal architecture shorn of all superfluity, with none of the gilt and ornamental trimmings of the baroque style. I saw the severity of line and the rhythm of this vaulted construction, which reminds me so powerfully of the rhythm of Bach's music. It seemed to me that I had found the right place.
related entries: Music
all text and images © 2003–2008