alan little's weblog archive for september 2006
so, currently listening to …
Shostakovich's first violin concerto, played by David Oistrakh with Yevgeniy Mravinsky conducting the Czech Philharmonic Orchestra.
Tyler finds Shostakovich's concerti unconvincing. I don't.
Happy birthday Dmitry.
UPDATE: Shostakovich Night continues with one of Rostropovich's recordings of the first Cello Concerto – admittedly less convincing, though still well worth listening to – and Shostakovich's own recording of five of his Twenty Four Preludes And Fugues for solo piano. Beautiful in, as Tyler says, a very different way from the more familiar orchestral works.
related entries: Music
alan endorses …
[Seven weeks since I last published anything? How did that happen? Blogging without a laptop is proving very difficult indeed, I just don't have the time at home. And I was away for three weeks – on holiday in the Italian Alps, visiting family & friends in Moscow, and attending various yoga events at which I learned vast amounts. Including …]
I'm on record as being sceptical of fashionable designer yoga. That includes anything to do with chic and glitzy yoga centres. The Ashtanga Yoga Centre in Moscow, as you can plainly see, isn't one.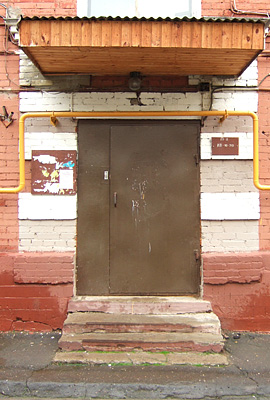 I thoroughly enjoyed Ilya Zhuravlev's class there a couple of weeks ago.
Recommended for anybody who happens to be in town. Not for non-Russian-speaking beginners; but if you already have a practice and know the sanskrit names of asanas, and can work out the Russian for left and right, hand and foot (this takes at most half an hour to master), then you'll be fine.
And if you do get lost, well, having an excuse to look at the beautiful Russian yoginis either side of you every now and again does no harm at all.
Ilya is the editor of yogamagazine.ru (English-language version coming soon, he says, maybe), who published a translation of parts of my Mysore Diary in their issue dedicated to Pattabhi Jois. And having met him and some of his friends, and seen just how dedicated and serious they are in their mission to bring authentic and serious yoga information to their country, it's all the more an honour and a pleasure to have spent time in their company, both in writing and now in person. I'll be back.
related entries: Yoga
tyler on shostakovich
Tyler Cowen – and, in his comments section, Alan Little among others – recommend Shostakovich's music on the occasion of the imminent hundredth anniversary of the great man's birth.
Tyler likes some of the symphonies, the string quartets and the piano trio. I said:
Wot no Piano Quintet? Various versions of the Borodin Quartet recorded it with various great pianists such as Richter & Leonskaja. For a complete set of the symphonies, Shostakovich's close friend Barshai's set on ultra-cheap label Brilliant is a sound bargain introduction; alternatively, a couple of weeks ago in Moscow I paid not very much for a set of Melodiya reissues of Mravinsky's 5,6,7,8,10,11,12,15, which I haven't had time to listen to yet and am looking forward to.

(Tyler - next time you're on a family trip to Russia, the CD shop in Sheremetyevo airport has lots on interesting Melodiya reissues by greats like Mravinsky, Richter & Oistrakh. Not at the kind of absurdly low prices you see in the pirate CD shops outside airports, but reasonably priced by western standards - I think I paid 30 Euros for that 6-disk Shostakovich box. And the ultra-cheap pirate shops are generally disappointing for classical, in that they have cheap knock-offs of stuff that is readily available in the west, but not any of the kind of obscure Soviet archive stuff that I always go there really hoping to find)

Getting back to the point: my favourite string quartets are #8 & #15. There is an amazing Borodin Quartet live recording of #8 from an early 1960s Edinburgh festival on BBC Legends that is even better than their studio recording from around the same time. And there's a very, very good #15 coupled with their recording of the Piano Quintet with Leonskaja on Teldec, making the disk very, very worth buying. On ultra-bargain labels for those looking for an introduction on the cheap, the Eder Quartet on Naxos and the Rubio Quartet on Brilliant are also perfectly decent.
I wonder if Brian will have anything to add? UPDATE: he does have something to say, albeit a few days after the actual anniversary.
related entries: Music
None
Einen Tod muß man in Marichyasana D sterben.
Bettina Anner
Is difficult to translate. Something like …
You have to die somehow in marichyasana D.
… were my yoga teacher's kind and compassionate words of wisdom when I ventured to suggest that perhaps her adjustment of my Marichysana D today might conceivably be bringing my forward knee a little far from the floor.
related entries: Yoga
all text and images © 2003–2008