alan little's weblog archive for may 2009
the boys were back in town
I surprised a colleague a while ago. He mentioned that he was going to hear [Irish blues/rock guitar legend] Gary Moore. Oh, I said, I haven't seen him for a long time. Second time he was in Thin Lizzy, it was. About '78 or so. What? he said. You're older than you look. Me smug.
But what I had completely forgotten was just how good Thin Lizzy were on stage in those days. Some of the music I liked then embarrasses me now, but not this:
I saw this Thin Lizzy incarnation at about the same time in Leicester's De Montfort Hall, not open air in Sydney Harbour. But hey, same band, same music. Thank you, youtube, for giving me a fond boyhood memory back.
I'm only just starting to appreciate the extent of the music that is on youtube these days. Could be a dangerous time-eater. So let me save you a bit of time: there's lots and lots of Thin Lizzy live footage on youtube. This, however, is not only a stunning performance but also has by far the best sound quality.
Thin Lizzy had quite a lot of personnel changes. This video isn't the arguably Classic Lizzy Lynott-Gorham-Robertson-Downey lineup. If you want to hear that version of the band on equally impressive live form, then you need this 1975 live album available on emusic. Forget the studio albums.
I don't expect everybody to appreciate rock music as an art form, but if you do, do yourself a favour. Listen. This is how it's done.
related entries: Music
goodbye guruji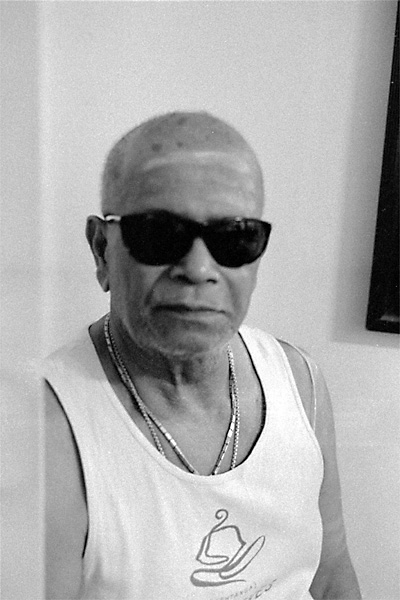 Sri K. Pattabhi Jois, 1915 – 2009
Yoga teacher Sri Krishna Pattabhi Jois, "Guruji" (dear/respected teacher) to his many admiring students, passed away yesterday in Mysore at the age of 93.
Guruji was a great teacher and an inspiration to many, including me. I think perhaps his greatest achievement wasn't the last thirty years of steadily increasing fame and student numbers after western students discovered him and his teachings; it was the thirty or more years before that, when he kept a precious and wonderful form of yoga practice going more or less single-handed in utter obscurity until the wider world was ready for it.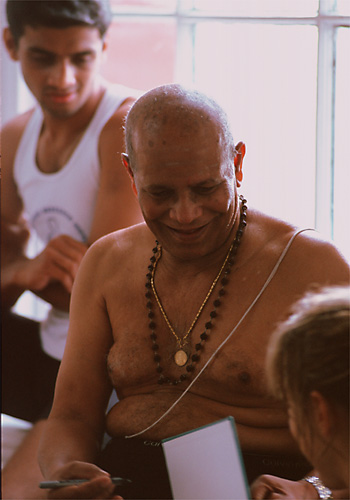 Guruji in New York, July 2000
UPDATE:Michael Smith links to some newspaper obituaries
related entries: Yoga
all text and images © 2003–2009