alan little's weblog
treatment house
People email me from time to time to ask if I can recommend any Ayurvedic therapy centres in India. Until now I've always had to say no, but not any more.
This man, P. Vijayan of Kerala, generally known as "Vijay", is an Ayurvedic masseur and one of a handful of true geniuses I have had the privilege of encountering in my life.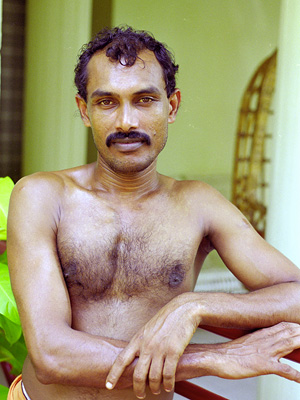 Vijay used to work in a beach resort hotel in Kovalam for the winter season when a lot of yoga students are usually there – Kovalam is a popular spot for western ashtanga teachers to teach their own winter classes before they go to Mysore. Outside of Kovalam in winter, though, it was difficult to track him down. I haven't been in touch with him since I was last there in 2002.
A while ago a friend of mine whose family lives in the same part of Kerala was interested in getting in touch with him – I asked around on a couple of yoga message boards if anybody had his home address, but no joy. Then last week one of his students emailed to let me know he now has his own Ayurvedic therapy centre, Treatment House, in a village near the Kerala state capital Trivandrum. The address:
TREATMENTHOUSE
Center for Kerala Traditional Ayurveda & Vijay's Foot Therapy

P. Vijayan
Athiralayam, Choozhattukotta
Malayam (p.o.), 695571 Trivandrum
Kerala, South India

Tel +91 471 2280774
www.treatmenthouse.com
I really can't recommend Vijay highly enough. I should get on with my long-overdue story about how he finally fixed my right knee after surgery and physiotherapy failed.
Added to my yoga links page.
Alan on Ayurveda (Indian traditional medicine): I don't believe Ayurveda's explanation of how/why the body, and ayurvedic treatments, work. I don't doubt for a moment that some of the treatements do work, and I certainly wouldn't rule out the possibility that ayurveda has effective treatments for things western scientific medicine can't deal with yet. It seems unlikely that highly intelligent and dedicated people would have got everything completely wrong for thousands of years. In particular I think the Ayurvedic approach of looking broadly at diet and health as whole has a lot to commend it compared to western medicine's tendency to look for technological quick fixes for individual problems and ignore the bigger picture.
related entries: Yoga
all text and images © 2003–2008